Soothing lullabies with words of affirmation to your baby
Our music is carefully curated with the well-being of your baby in mind. We apply a quality seal and use specialized software to eliminate frequencies that could be harmful to their health. With our music, you can be confident that your child is not only enjoying pleasant sounds but also reaping the benefits of cognitive development.
---
These personally-tailored recordings are designed with your child in mind. Your baby, grandchild or beloved friend will cherish this treasure that speaks life, truth and affirmation into their hearts through customized words and music.

Melodies, arrangements, and orchestration are professionally chosen to provide enjoyment and bonding - a bridge between families and children which last a lifetime.
Connecting love and memories through calming music —
RELAXATION AND BONDING
The soothing melodies will promote peaceful bonding and relaxation for mother and child. Relaxation can facilitate nursing, digestion, emotional wellness, and sleep, as well as promote the positive memories associated with bonding.
Building Healthy Emotions
Intentional and well-placed calming music is paired with affirming lyrics. This pairing lays a foundation for positive personal significance as well as emotional security. The repetition over time of this type of personalized music also promotes, stabilizes, and strengthens this emotional foundation.
COMFORT AND PRESENCE
Music facilitates the comforting presence of parent or caregiver as well as the natural inclination to nurture. Whether your loved one is near or far, both now and for years to come, music can connect the mind with the heart and strengthen family bonds.
INSTINCTIVE JOY AND CALM
When the mind and heart recognize familiar music and affirming lyrics, natural instincts of pleasurable feelings such as joy and happiness occur organically. The mind and heart return to moments of the peaceful presence and comfort of their earliest bonds. This becomes a useful tool as children grow and learn healthy, self-soothing techniques.
---
Connecting love and memory through music —
Relaxing
Moms can have a unique moment of relaxation with their babies.
Building Healthy Emotions
Emotional connections play a crucial role in building strong emotions.
Comfy
Nothing is more comfy than being in the arms of the mom.
Happier
More than ever humanity needs joy. The time to build that is with great sounds in mind!
---
---
Baby Melody songs are unique, yet powerful; simple, yet melodical. Songs made from the heart with your baby in mind.
Baby Melody songs are unique, yet powerful; simple, yet melodical. Songs made from the heart with your baby in mind.
---
---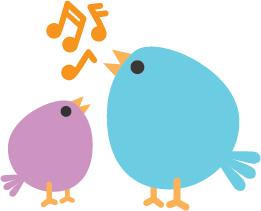 ---
Letters of
Love
(custom message + baby's name)
A Unique Customized Gift That Will Last Forever!
Uniquely customized music and lyrics designed with your custom recorded voice or message, blessing or love letter as part of the instrumental song. Perfect for parents, grandparents, uncles, aunts, cousins, sisters, or brothers unable to be physically close to the baby or child. The present of presence!
Are you unable to see the baby immediately? With Letters of Love, you can be "present" in the life of the baby by sending a custom message that will have the sound of your voice in our song that they will appreciate for a lifetime!
Whether you are a parent, grandparent, an uncle, a cousin, a sister or brother, or even a close friend, Baby Melody will make a beautiful gift for you where your voice will be part of the sound of our music.
Click the button below to order your Letters of Love today!
"Since I received the first song from Baby Melody, I play it for my baby to go to sleep."
My entire family loved the song for its calmness, peace that the song brings to our hearts

Gislayne Furtado